INTRODUCTION:-
Although the word volcano may indicate poisonous ash moving up like a mushroom and bright hot dangerous lava flowing at an escapable pace yet there is something that always skips people's mind i.e. Pyroclastic flow. Pyroclastic flow or Pyroclastic density current or Pyroclastic cloud is a fast moving current of hot gas and volcanic matter.
MAJOR DIFFERENCES BETWEEN LAVA FLOW AND PYROCLASTIC FLOW:-
Lava flow is the mobility of the molten material that erupts from beneath the earth surface. It is specifically the molten rocks or minerals that flow until they are solidified. The speed of a lava flow is comparatively easy for Human Beings to escape on sight. The mobility or speed decreases with the density of the lava material. If the lava material is highly viscous containing highly dense or heavy minerals then it has lower speed than of less dense lavas. In contrast pyroclastic flows have everything in opposite. This flow not only includes lava but also all the debrises, ash clouds and hot gasses, combining known as "Tephra". The speed of this flow is unusually large, reaching upto 700 km/h and temperatures of gasses reaching 1000 degree Celsius which explains why it is impossible to escape for humans immediately! The speed of the pyroclastic flow increases as it captures materials unlike lava flow!It is a gravity driven phenomenon depending upon the slope gradient!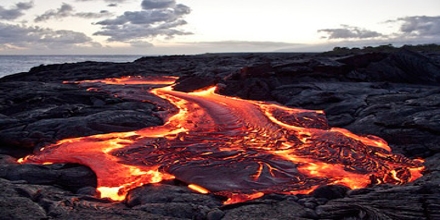 ORIGIN OF THE WORD:-
It is a Greek derived word- "pyr" meaning "fire" and "klastos" meaning "broken in pieces". The broken pieces consist of volcanic glass, crystals and rocks such as pumice or scoria. These solids have been heated and fragmented through explosive eruptions.
THE CAUSE OF SUCH DEVASTATIONS:-
1-A FOUNTAIN COLLAPSE of an eruption column from Plinian Eruption. In such cases the materials exit from the vent forcefully. They inturn heat the surrounding air causing a turbulent mixture to rise up! If the erupted jet fails to heat the surrounding air sufficiently, the plumes aren't transported vertically and all of it falls, flowimg to the flanks of the volcano. 
2-FOUNTAIN COLLAPSE OF AN ERUPTION COLUMN OF A VULCANIAN ERUPTION. The gas and projectiles form clouds denser than the surrounding air which paves the way for a pyroclastic flow.
3-FROTHING at the mouth of the vent during degassing of the erupted lava.
4-GRAVITATIONAL COLLAPSE of a lava dome.
5-THE DIRECTIONAL BLAST of a collapsing volcano causes the flow to be a gravity driven current making it pyroclastic.
See a glimpse of the flow!